Sponsored by the National Susan B. Anthony Museum and House
The National Susan B. Anthony Museum and House is a museum and learning center in Rochester, NY, featuring the National Historic Landmark house that was the great reformer's home base from 1866-1906. She was arrested in this house in 1872 for voting. It was the headquarters of the National American Woman Suffrage Association when she was its president. In 1906, fourteen years before the passage of the constitutional amendment that gave women the right to vote, she died in her bedroom on the second floor. We are keeping Susan B. Anthony's vision alive and relevant by telling her story to inspire social change.

Powered by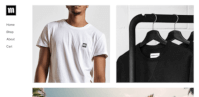 Create your own unique website with customizable templates.